The Carving Art of Jose de Braga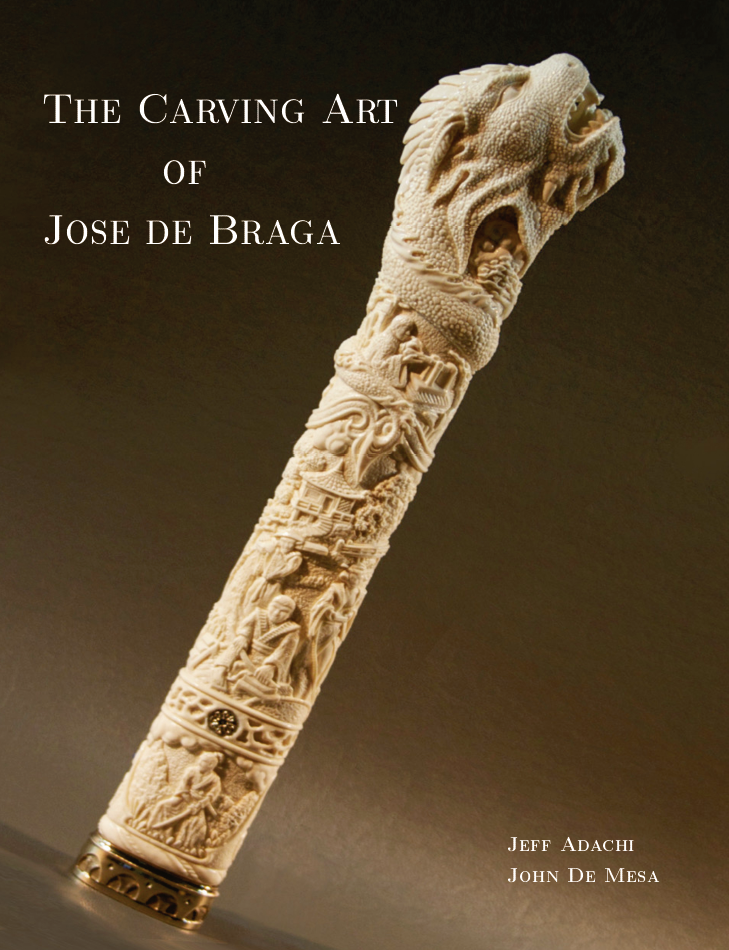 This book contains an over-the-shoulder look at an artist at work. Jose de Braga is an award winning artist, whose carving has been featured in movies, books, and magazines. The project documented in this book took place in 2011 when, in an unusual arrangement, Jose stayed at the home of his client for three weeks to carve a dragon headed sword handle and its related metal parts. 147 pages with 447 pictures give the reader a rare view of Jose's process. Chapters cover evolving the design and carving the dragon head, the human figures, structures, plants, and the various metal fittings. The book also includes biographies of the craftsmen who contributed to the project and an appendix with information on tools and supplies.
Although originally planned as a black and white book, a color version was added and both versions are now available through Lulu.com.
Jose's Reaction:
Here's a new book showing all the process undertaken to create the Togishi katana handle ...
I was pleasantly surprised by the quality and fluidity of the whole …
I found the pictures overall showing quite well, exhaustive and well explained …
All texts nicely written , informative , accurate and on point …
I think it is a good reference book on the carving and creative process …

Notes on Book Production:
I initially imagined the book with grayscale photographs in order to keep printing costs down and make the book more accessible. Also, I thought that grayscale would be good at conveying the changes in surface textures as the carving progressed.
But early on in the process, I noticed that the conversion to grayscale was near the end of my image processing and with little extra effort, I could keep two versions of each file: one color, one grayscale. LaTeX (my typesetting program) let me easily switch between color and grayscale, and produce two versions of the book for almost the same work as one. So while the grayscale was as effective as I had had hoped, I also published a version for those who just prefer color images.
For more information on the typesetting and image processing tools used to produce this book, see Creating Books With LaTex
Samples:
A sample photo sequence in color.


The same photos in grayscale.


Some sample pages from the book showing the drilling of the handle.
Drilling The Handle (Color)
Drilling The Handle (Grayscale)

More sample pages showing some of the carving of the mouth.
Carving the Mouth (Color)
Carving the Mouth (Grayscale)